Winter Words: A Poetry Reading by Anna Swanson and John Barton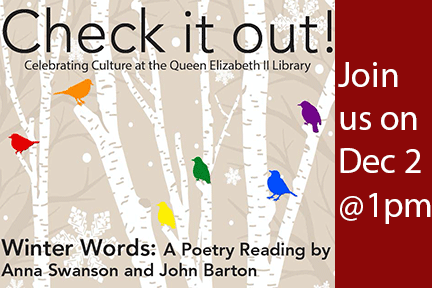 Check it out! is celebrating early winter with a poetry reading by LAMBDA award-winning poet and NLPL librarian Anna Swanson, and Memorial's writer-in-residence John Barton. Both LGBT writers bring their unique voices to warm us as the winter nights grow longer. Swanson, recently shortlisted for the prestigious CBC 2015 Poetry Prize, brings a sensual lyricism to her everyday experience, while John Barton, writer of 11 volumes of poetry, and winner of the Archibald Lampman Award, explores the contradictory nature of temporal life. Humanities Collection Development Librarian Amanda Tiller-Hackett will give an overview of MUN Libraries' LGBT collection.
Join us Dec 2 at 1pm in the Centre for Newgoundland Studies (CNS). Light refreshments will be provided.