Welcome to Fall 2021: Information for new and returning students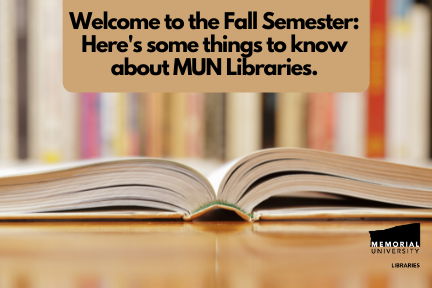 Sept. 7, 0221
Welcome to the Fall Semester. We've missed having you in our buildings. Here are a few things we thought you should know as we make the shift to more 'normal' operations while still living with COVID-19:
All our branches are open to students, faculty, and members of the community. Drop by anytime!
We are required to do contact tracing. What does that mean? You will have to swipe your MUN ID card at the front door. If you don't have a MUN ID, you will be required to provide your name and contact information upon arrival.
Masks are mandatory in our Branches.
As we move into the Fall Semester, make sure you check our hours because they are changing.
You don't have to book individual study space. All of our libraries offer personal, group and quiet study spaces. Choose your library to find out what spaces are available.
Here's where to look for branch-specific information on our website.
The Centre for Newfoundland Studies is returning to a drop-in service and will be open longer as of September 8th. Reference services and more information are available at cnsqeii@mun.ca
Access to the Archives and Special Collections remains by appointment. Reference services and more information are available at archives@mun.ca.
Check the Commons website for the latest information on their services and spaces, such as in-person support at the Computing Support Desk, virtual tutouring and software workshops.
We made a top ten list of library tips for new students. Be sure to read it.
If you have questions or need help, contact us through online chat, phone, email or visit us in person. Ask at any help desk — staff will be able to point you in the right direction.