Updated: Libraries seek consultation on Taylor and Francis journal package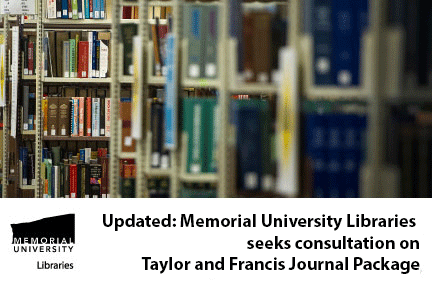 In a continued effort to reduce journal expenditures and provide the best collections its budget permits, Memorial University Libraries is seeking consultation with faculty and students as it reviews the Taylor and Francis journal package, which includes Informa Healthcare, scheduled for renewal in 2017.
"We are engaging Memorial University's faculty and student communities now to determine which journals included in the Taylor and Francis package (including Informa Healthcare) are essential for their teaching and research," said Louise White, interim university librarian. "We want to ensure access to essential resources while still operating within a financially sustainable model."
Memorial University Libraries advise journal users there is an updated list provided by Taylor and Francis that includes 200 newly added titles as of April 15, 2016. As with the Cambridge, Oxford, Wiley and Springer publisher packages, the libraries intend to analyze feedback from academic units along with data such as use statistics and resource overlap in determining which journals to retain from this package as of January 2017. Memorial University Libraries aims to maintain subscriptions to essential journals and provide alternate access to other journals required by faculty and students.
The rising cost of journal subscriptions (5-15 per cent annually) and the impact of the strong U.S. dollar continue to challenge the libraries' buying power. Despite a steady-state budget, the libraries increased the allocation for journal subscriptions by 25 per cent over the past five years, from $6 million to $7.5 million. It is no longer feasible for Memorial University Libraries to retain all journal subscriptions.
Journal users are asked to provide a list of essential journals from the Taylor and Francis journal package and also the rationale (where possible) for retaining those journals by Oct. 03, 2016, to the collections review sub-committee chair, Erin Alcock.
Collections librarians will also be contacting academic units and their faculty representatives to set up optional meetings for further discussions on the issue.
More information on the journal subscription review can be found on the Memorial University Libraries website.