Update: Keep@Downsview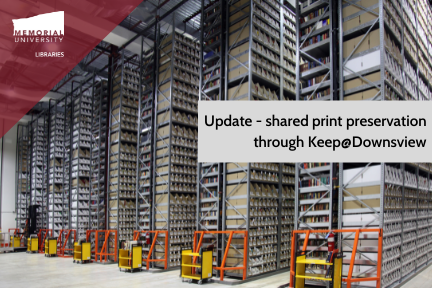 Oct. 22, 2021
Memorial University Libraries is now an associate member of the Keep@Downsview Initiative as part of its ongoing efforts to improve long-term collection preservation and access through creative and innovative management strategies.
Keep@Downsview is a collaborative endeavour between the University of Toronto, the University of Ottawa, Western University, McMaster University, Queen's University and Memorial University designed to preserve and provide access to low use print materials.
This shared collection of single copy low use material is stored in a purpose-built, high-density preservation facility located at the University of Toronto's Downsview Campus in North Toronto.
For more information, please visit Keep@Downsview.