United Nations photo exhibit at QEII Library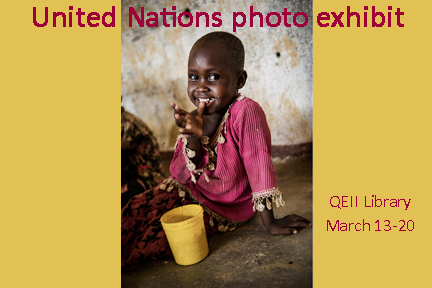 The Queen Elizabeth II Library is hosting a travelling photo exhibition from the United Nations World Food Programme (WFP).
WFP is the world's largest humanitarian agency fighting world hunger. In 2013 WFP assisted more than 80 million people in 75 countries by delivering food in emergencies and working with communities to improve nutrition and build resilience.
The exhibit is travelling to different universities across Canada to highlight the work of the WFP and the contribution of the federal government's Department of Foreign Affairs, Trade and Development.
"Hosting such events on campus allows Memorial University to get a glimpse into the work that Canadians do abroad and brings an international perspective to students here at home," said Teeba Alsafar, international program co-ordinator, Internationalization Office, Memorial University. "There are many ways that our campus can learn about the important issues facing the world and this is definitely one of them."
The exhibit consists of 12 colour posters with short descriptions of the photos and QR codes that link to relevant videos, fact sheets and websites. It will run from March 18-20 at the Queen Elizabeth II Library, third floor, on the St. John's campus.