The 2020 Margaret Williams Trust Fund Award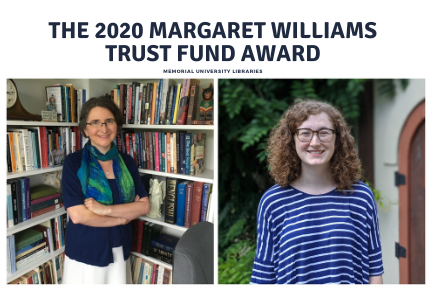 Featured in photo: Dr. Bonnie Morgan (left), and Ms. Katherine Kehoe (right)
The Trustees of the Margaret Williams Trust Fund have presented the 2020 award to two recipients (one student/one project). The award was established to promote the development of librarianship in Newfoundland and Labrador and honour the memory of long-standing Memorial University librarian Margaret Williams.
Congratulations to student Katherine Kehoe. Ms. Kehoe has completed one year of her MLIS degree at Dalhousie University, and is returning for her second year in September. As per the selection criteria, Ms. Kehoe has "proposed a specific project" which will have a direct impact on librarians and the library profession in Newfoundland and Labrador. As Ms. Kehoe states, "after finishing my degree, I hope to bring all I've learned here at Dalhousie back to Newfoundland and Labrador through public librarianship programming and events. I would love to create an event similar to Funny Pages in Newfoundland and Labrador, as a way of connecting students with public library services and local authors."
Bonnie Morgan is a professional librarian in Newfoundland and Labrador who received the award for her proposed project entitled "Little (Public) Libraries: Can Aspects of the Little Free Library Movement be Used to Enhance Public Library Services?" Dr. Morgan said, "the project will test interest in, and use of, public library collections of local books by residents of seniors' care homes when collections are presented as 'little libraries' in their facilities."
Both recipients received an award of $1,200. Funds are awarded on a competitive basis to applicants seeking funding for library‐related projects or assistance in pursuing graduate studies in librarianship, archival studies, or teacher librarianship in Newfoundland and Labrador.
For more information on the award, visit: https://www.library.mun.ca/mwtf/