Thanks for participating in our Journal Retention Survey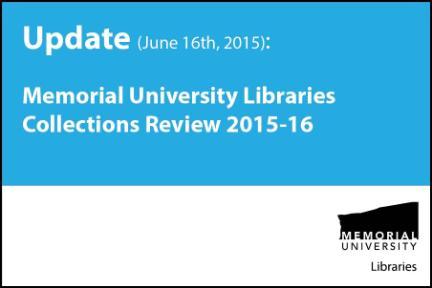 Memorial University Libraries thank those who completed the recent Journal Retention Survey (). The survey is now closed; however, we welcome those still wishing to provide feedback to contact their collections or liaison librarians.
A specially designated sub-committee of collections librarians will now analyze the survey data, along with existing information such as usage statistics, subject coverage, license terms, price, uniqueness of content, and availability of journal content from other subscribed resources, to identify potential candidates for subscription outside an all-inclusive package.
Memorial University collections librarians devote their professional lives to building, enriching, and managing robust collections that advance leading-edge research and teaching. Cancellation projects are a complex last resort when budget increases cannot keep pace with increases in the cost of scholarly research resources.
We are committed to protecting the maximum number of high quality resources required to meet research and teaching needs, while facing the challenge of balancing our budget. To better align our allocation and expenditures on journals in 2016, Memorial Libraries must find savings of about $300,000.
Please note that Memorial users will have access to journal issues from 2015 and earlier even if packages may be cancelled from 2016 onward. Continued access to content added during the period of subscription is secure. Memorial Libraries has an extensive document delivery service, in partnership with other major Canadian and international academic and research libraries, and provides desktop delivery of journal request articles within an average of two business days.
We will continue to consult with our users and share information when we have it. We thank you for your cooperation and valued input thus far.
Background information on Memorial University Libraries 2015-2016 Collections Review Process.