Take your medicine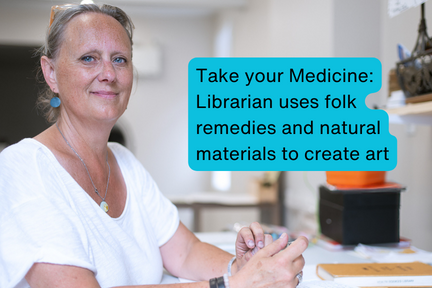 Bricolage, or, making use of the things that you find.
For Lindsay Alcock, a librarian at the Health Sciences Library and a visual artist, foraging materials like sandstone, soot, wildflowers and tree bark to create inks and pigments is the foundation of her artistic practice.
She's spent the last year working on her sabbatical project, Bricolage: The Art of Home Remedies in Newfoundland and Labrador.
True to the essence of the word bricolage, Ms. Alcock created the work using materials she finds at her fingertips as both an academic and a visual artist. The result is, as Ms. Alcock describes, "out of the box" as far as library sabbatical projects go. Ms. Alcock has been producing art for many years under the name Old Trout Studio.
"This sabbatical has been transformative," said Ms. Alcock. "It has been a game-changer for my confidence. Up until now, I have been creating, but there was always something holding me back. I was thinking more of what would appeal to people and what they could relate to, but now I feel so much more confident in myself and my own voice."
Evidence and anecdote
Ms. Alcock says she found inspiration in the research of Dr. John Crellin, now retired from Memorial's Faculty of Medicine, in particular his book, Home Medicine: The Newfoundland Experience.
Dr. Crellin's office was located in the Health Sciences Library where Ms. Alcock worked for many years, so the synchronicity is not lost on her.
"I don't know if I would have done any of this if I wasn't a librarian," Ms. Alcock said. "I really appreciate the idea of research and stories to be behind something. In my work, I focus on evidence-based practice, so I am always looking for research to inform my best decisions and in this case, it's a lot like that, but instead, I am not necessarily using evidence, I am using anecdotes held in Memorial's Folklore and Language Archive."
The folk remedies served as a starting point.
But for Ms. Alcock, they also hold important truths about the relationship with the natural world that surrounds us.
"When I was looking at all these remedies, it was stuff you could find in your garden or walk down the lane. It's not like it is now where you can order up a pill to fix it. Back then, you had to be more creative and resourceful."
Ms. Alcock is just that: creative and resourceful.
Where possible, she used the folk remedy as inspiration, but also for creating the colours and other materials she needed to bring the remedy artistically to life.
One folk remedy involves applying birch tree bark to frostbite or burns.
"I thought, how can I get pigment out of a birch tree? My parents have a couple of birch trees in their backyard, so I tapped those trees and got the sap and boiled down the sap and added some local honey to make it a bit more viscous. I also had pigment that I made from soot from a campfire and I also had a pigment from a sandstone I had picked up in Lewisporte a couple of summers ago."
Those are the pigments in her exhibition piece, Birch Study, No. 1.
She says her work contains "so much alchemy."
"You can look at the birch tree painting and think, that's really nice, but the time and the love that goes into gathering the sap in my parent's yard, that really means a lot. Grinding the campfire soot to make a fine powder, to make the pigment from the soot and sandstone, took days because there is a draining and filtering process."
The sabbatical and its attendant creativity has changed Ms. Alcock, who begins a new role with Memorial University Libraries as interim associate dean in August.
"This exhibit and this whole process is about connecting with nature and with our environment," she said. "It feels like since COVID, we have taken a few steps back to think about our environment and what's important and what brings us joy and love. The environment around us is lovely, we can smell it, taste it, it can heal us. Art also has a way of healing the artist."
Bricolage: The Art of Home Remedies in Newfoundland and Labrador will be on display in September in the First Space Gallery in the Queen Elizabeth II Library on the St. John's campus. For more details, visit online.