Scholarly Ecosystem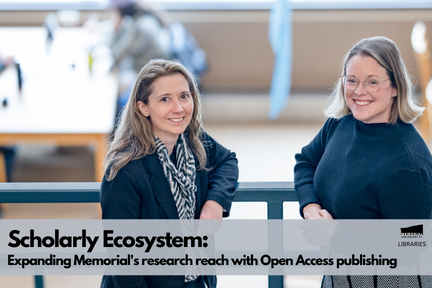 (Featured in photo: Dr. Dianne Keeping and Dr. Kathryn Rose)
March 18, 2023
Not since the evolution of print to digital scholarly communications has a concept offered groundbreaking change the way Open Access (OA) publishing does. And, once again, academic libraries are pioneering the transformation.
"Providing free and equitable access to information is one of the core values of librarianship, so it should come as no surprise that academic libraries have been at the forefront of the open access movement in scholarly communications," said Dr. Dianne Keeping, dean of libraries at Memorial.
In traditional academic publishing, copyright is signed over to commercial publishers, who then lock it behind paywalls and charge readers to access the content.
Recent world events like the COVID-19 pandemic and the escalating climate crisis demonstrate the increasing importance of sharing and collaborating on research across geographic, economic and disciplinary boundaries.
"The open access movement in the digital age is the next step in the path toward a true democratization of knowledge for the benefit of all, said Dr. Keeping. "Libraries will be there to educate, advocate, and support that journey."
Publishing discounts for Memorial researchers
Memorial University Libraries, as part of a larger national negotiation by the Canadian Research Knowledge Network, recently signed new licensing agreements with some major academic journals to provide OA publishing discounts for Memorial researchers.
The three-year agreements offer unlimited OA publishing in five Canadian Science Publishers (CSPs) journals and a 25 per cent discount on article processing charges (APCs) in 14 additional CSP journals for corresponding authors.
The agreements also include unlimited publishing in 12 Public Library of Science (PLOS) journals.
"We hope this will encourage more members of our Memorial University community to look at the Open Access publishing models and make their research freely available to the world," said Dr. Kathryn Rose, acting head, collection strategies, Memorial University Libraries.
Moving towards the shared goal of making Canadian research open, Canada's three major research-funding agencies also have an OA policy that requires all peer-reviewed journal articles funded in whole, or in part, by the agencies, to be made publicly available within 12 months of publication.
"We are looking at this not just from a publication point of view, but rather as a scholarly eco-system," said Dr. Rose. "We are supporting the development of the infrastructure by which OA will thrive through initiatives like our research repository and our collection in Borealis; the Canadian Dataverse Repository; and through globally led initiatives, such as the Directory of Open Access Journals."
Learn more about these and other OA-related services at Memorial University Libraries.
For more information on the new OA publishing agreements, contact Dr. Kathryn Rose.