Scholarly Communication in the Digital Age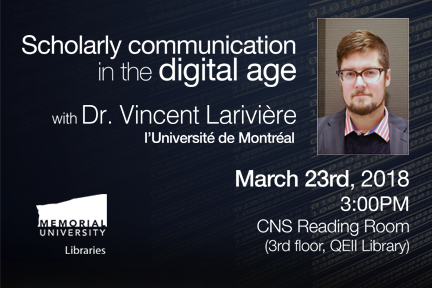 Memorial University Libraries Lecture Series presents Scholarly Communication in the Digital Age with visiting guest lecturer Dr. Vincent Larivière, Canada Research Chair on the Transformations of Scholarly Communication and Associate Professor of Information science at the École de bibliothéconomie et des sciences de l'information, l'Université de Montréal.
Created in the second half of the 17th Century, journals became the fastest and most convenient way of disseminating new research results, outranking correspondence and monographs. The advent of the digital era then challenged their traditional role and form. Indeed, digital technologies, which are easy to update, reuse, access, and transmit, have changed how researchers produce and disseminate knowledge, as well as how this knowledge is accessed, used, and cited. It also changed how libraries subscribe to scholarly content. Drawing on historical and contemporary empirical data, this talk will address the past and current transformations of scholarly communication, with an emphasis on the role of journals in this new ecosystem, and present the results of the first large-scale analysis of journal usage in Canada.
When: 3:00 pm, Friday, March 23, 2018
Where: The Centre for Newfoundland Studies, 3rd floor, QEII Library
Not able to get to the QEII Library to attend? Remote access is available for this event for Newfoundland & Labrador Library Association members and Memorial University affiliates across the province. To register for a remote session, please email beth.maddigan@mun.ca.
*Pay-Per-Use Parking is available on campus: http://www.mun.ca/cep/parking/pay_per_use.php, or you can request a visitor permit in advance: https://www.mun.ca/cep/parking/visitor-parking-request-form.php.