Reminder: Feedback welcome on draft Research Data Management (RDM) Strategy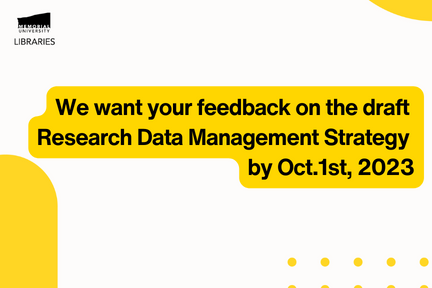 Members of the university community are invited to provide input on a pan-university document currently under development. A draft of the institutional Research Data Management (RDM) Strategy is available here. The aim of the strategy is to encourage the responsible and ethical use of research data through providing direction and support to researchers.
The creation of the draft document for Memorial is a requirement of the federal government. In March 2021, Canada's tri-agencies – the Natural Sciences and Engineering Research Council (NSERC); the Social Sciences and Humanities Research Council (SSHRC); and the Canadian Institutes of Health Research (CIHR) -- released a research data management policy. Part of this policy requires institutions receiving tri-agency funds to have an institutional research data management strategy. Researchers, faculty, staff, students and postdoctoral research fellows are invited to review the draft strategy and provide comments to rdmstrategy@mun.ca. Feedback will be accepted until October 1st, 2023.