Reminder: Consultation on Taylor and Francis journal package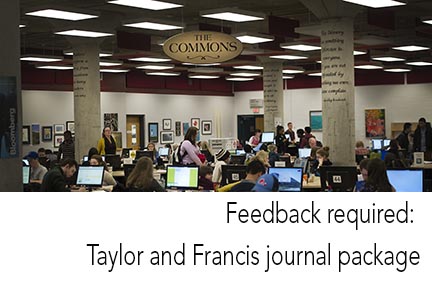 Memorial University Libraries would like to send a final reminder to faculty, instructors and students to provide feedback on the review of the Taylor and Francis journal package, including Informa Healthcare, which had been scheduled for renewal at the end of this year. Journal users should consult the and submit a list of essential journals and also the rationale, where possible, for retaining those journals by Oct. 3, 2016. Please send responses to the collections review sub-committee chair, Erin Alcock.
Since May we have heard from approximately six departments and 63 individuals. We will be approaching both the Faculty of Science Library Committee and the Faculty of Humanities and Social Sciences Library Adhoc Committee for further discussions on the journal package. Additionally, we encourage all other departments/ faculties to contact their collections librarian to set up similar meetings, or to address any questions, comments or concerns.
As with the Cambridge, Oxford, Wiley and Springer publisher packages, the libraries intend to analyze feedback from academic units along with data such as use statistics and resource overlap in determining which journals to retain from this package as of January 2017. Memorial University Libraries aims to maintain subscriptions to essential journals and provide alternate access to other journals required by faculty and students. For more information, visit here.