Remembering librarian Anne Hart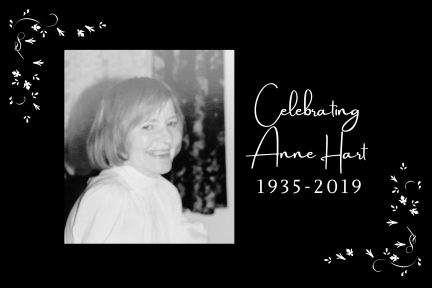 Dr. Anne Hart was the division head for the Centre for Newfoundland Studies for many years and made a lasting impact on our Libraries, the University and the province. Her legacy lives on through the work that we do. She started working at Memorial in 1969 and became head librarian at the Centre for Newfoundland Studies (CNS) in 1976. She was a storyteller, a meticulous researcher and a visionary when it came to preserving Newfoundland and Labrador's history and culture. She was named a member of the Order of Canada in 2004 for "building a priceless and internationally renowned collection of Newfoundlandia." You can read more about Ms. Hart in the tribute written below by Ms. Joan Ritcey, who was Ms. Hart's frequent collaborator and successor after her retirement in 1998. Ms. Hart died on October 9, 2019, in Victoria, British Columbia.
There will be a Celebration of Life ceremony at the Centre for Newfoundland Studies (CNS) in the QEII Library (3rd floor) on Friday August 4th, 3:00-4:30 pm. This will be a chance for people from the Memorial University community and other friends and family to share their memories of Anne in the very special library that she led for many years. Free parking available in lots 17 and 18. Parking lot 17 avoids stairs.
Donations in Anne's name are very welcome (in lieu of flowers): to WANL (the Writers' Alliance) or to the CNS (Centre for Newfoundland Studies) or the Archives and Special Collections (Memorial University Libraries): https://www.mun.ca/give/give-online/
A Tribute to Dr. Anne Hart by Joan Ritcey
Anne Hart, a woman of culture, with a contagious enthusiasm for life, passed away on October 9 2019 in British Columbia. Well-known nationally as an author, most would not know of her career as a librarian.
Anne was born in Winnipeg and spent her childhood in Nova Scotia. She obtained a B.A. from King's College, Halifax and her library degree from McGill. She worked briefly at the British Museum Science Library, the Dalhousie University Library (as Kipling Rare Book Librarian), Queen's University Library, and the Newfoundland & Labrador Public Libraries before moving to Memorial University Libraries. Anne, her husband, Psychology Professor David Hart, and the first of their three children arrived in St. John's in 1962. She started work at the Centre for Newfoundland Studies (CNS) in 1972.
The CNS was opened in 1964 with Agnes O'Dea as founding librarian. It was with extraordinary foresight that the university administration of the time put projects in place to protect NL culture, understanding that confederation with Canada would be bringing about many irrevocable changes to the province's uniqueness. University initiatives from this time include the English Language Research Centre & the Dictionary of Newfoundland English project, the Memorial University of Newfoundland Folklore and Language Archive (MUNFLA), the Maritime History Archive, and the CNS. Anne became Head of the Centre upon Miss O'Dea's retirement in 1976.
Following on Agnes O'Dea's vision for a collection of all the print materials relating to all aspects of Newfoundland and Labrador, Anne took an exhaustive approach. "Newfoundland Studies" was defined as anything relating to the province – history, language, literature, folklore, cultural geography, anthropology, archaeology, sociology - certainly; and broadening out to politics & government, current affairs, communications, business, education, music, biology, medicine, physical geography, earth sciences and the industries (from the fisheries to transportation to hydroelectricity to oil & gas), attempting to bring together everything any researcher might need concerning Newfoundland and Labrador – and written BY a Newfoundlander/Labradorian or ABOUT Newfoundland and Labrador, in any language or from any time period.
Materials were obtained from publishers throughout the world, antiquarian dealers, local publishers, private sellers, auctions, reprint-, microfilming- and photocopying- services, and bequests and donations. Many treasures were obtained, such as Hayman's Quodlibets (1628), considered to be the first work of literature (poetry) written in North America; Rules and Constitution of the Benevolent Irish Society (1806), printed on the first printing press in Newfoundland; and original charts of this region from the 1500s and 1600s. Collection development work was divided up by genre: monographs, government documents, periodicals and ephemera, with staff members assigned to each subject area. The ephemera or Vertical File collection, consisting of pamphlets, flyers, programmes, booklets and newspaper clippings is one of the most important and irreplaceable parts of the CNS collection as it holds materials which owners usually discard.
Anne's subject specialities were history, literature, maps and charts, and copyright regulations.
Anne had a talent for administrative work. Her excellent judgement in large and also day-to-day decisions, her charisma and brilliant connections - on campus, within the province and nationally, with scholars, authors, collectors, media people and politicians – plus the amount of time she gave to the position kept her at the top of her field. She pressed for the standards of the CNS within the library, ready to defend her division while understanding and working with her colleagues on wider library and university issues.
Anne built up a management team, over time, of Anne Alexander, Nancy Grenville, Bert Riggs, Colleen Field and Joan Ritcey, a close team of information desk Newfoundland and Labrador Studies research specialists and archivists, and a close team of service desk assistants who kept the sequences of shelves, files, drawers and genres in impeccable order –in whom she inspired respect and loyalty. She did not micro-manage but believed in bringing out her co-workers' full potential in a nurturing environment.
When the main library building, the Queen Elizabeth II, opened in January 1982, along with the best collection possible, the Centre's public services operation now offered a silent reading room, with long hours of opening and staffed by Newfoundland Studies specialists. Because preservation of the collection (the policy that all the materials on the shelf on any given day will be there a hundred years thence) was paramount and because annual inventories in the old building showed that volumes were going missing, it was decided that the CNS stacks in the new building would not be open for patrons to browse. With this decision the public catalogue, the finding aids and staff-training became even more important. The policy of purchasing multiple copies of Newfoundland and Labrador monographs was brought in, to supply a preservation copy for CNS and circulating copies for the QEII and Grenfell collections. Another of Anne's initiatives, the Preservation Unit, to protect and prolong the life of the physical collection, was created at this time.
During Anne's tenure it became evident that the Centre required an archives to house the original manuscripts, correspondence, journals, photographs and other unpublished materials that came in as donations. Separate from the CNS library collection, the CNS Archives opened to the public in 1982. It contained the enormous Joseph R. Smallwood Collection, and the Performing Arts Archives and STAGE Project (an oral history of theatre -plus script bank- collection), including the notable CODCO Papers.
Bibliographic projects such as the Bibliography of Newfoundland (U of T, 1986; a list of 5,000 books from circa year-1000 Norse Sagas to 1975), were created as a major support of Newfoundland and Labrador scholarship. Research tools, such as the PAB (Periodical Article Bibliography) and Alberta Auringer Wood's Newfoundland & Labrador Map Bibliography were encouraged and staffed during Anne's time.
Tax credits for donors of library materials and the related appraisals became the norm. Research and writing on historical topics by CNS staff members increased. The Centre's submissions for the Canadian Cultural Property Export Review Board, the Historic Sites and Monuments Board of Canada, SSHRC and the Dictionary of Canadian Biography, as well as the planning of and speaking at local symposia and lectures (such as the Centre's Great Auk Lecture Series on ecology and conservation biology) added gravitas to the work of many Newfoundlanders and Labradorians.
Anne led the typical academic librarian's life serving on boards of library associations, writing items for librarians' interest in journals such as the APLA Bulletin and special libraries journals. She was a member of the professional associations: The Newfoundland and Labrador Library Association, The Association of Newfoundland and Labrador Archives, The Atlantic Provinces Library Association and The Canadian Library Association. She was a founding member of the St. John's Status of Women's Council, the Writer's Alliance and the provincial Human Rights Association; she served with the Human Rights Commission, the Canadian Library Trustees Board and was a long-time NL Public Library Trustee. (She was awarded the Canadian Library Trustees Association Merit Award in 1986.) And she travelled within Canada, to the United States, to the United Kingdom and Ireland giving papers about the CNS and its collections at Canadian Studies and history conferences.
To mention one highlight out of many of Anne's literary career - It was a wonderful surprise for her colleagues when Anne published a most delightful book in 1983 - on Agatha Christie's fictional character Miss Marple (Dodd Mead, 1985) – and as well when it, and her second Christie book, The Life and Times of Hercule Poirot (Dodd, Mead, 1990) both became international best sellers.
Anne moved on from the library in 1997. She never described this as 'retirement' as she was appointed Memorial University Honourary Research Librarian and continued to mentor fellow authors, work as an editor and to write history, fiction and poetry. Her Woman who mapped Labrador: Life and Expedition Diary of Mina Hubbard/ by R. Buchanan, A. Hart & B. Greene (MQUP, 2005) was short-listed for the Winterset Award. She was awarded the Order of Canada in 2004 and received an honourary degree from Memorial "for her contributions to Newfoundland and Labrador Studies" in 2005.
All her life Anne was politically active, fought for social justice and was a card-carrying feminist. She loved debate, humour and wit. She was a renowned dinner party host; for setting an elegant table, bringing people together and generating interesting conversation.
Anne's elder son the historian, Peter Hart, passed away in 2010, the greatest sadness of Anne's life. Daughter Susan Hart is a recently retired archivist for the British Columbia Government Records Service and son Stephen Hart is a systems analyst with an engineering firm in Kingston Ontario.
Anne's legacy continues through the priceless collection, which will provide generations of students, scholars and the public with a record of life in Newfoundland and Labrador. Today the CNS, headed by Colleen Field, welcomes students and scholars to the continually enlarging Newfoundland and Labrador Studies library collection and aids to research, both online and in-house. Archives and Special Collections became its own division in 2005. Headed by Colleen Quigley, it continues to develop its strengths in Newfoundland and Labrador literary and performing arts manuscripts, political papers, military journals and letters, and photographs; and an important and growing main library collection of rare books and papers.
Joan Ritcey was Head, Centre for Newfoundland Studies from 1997 to 2018.
July 2023