QEII Library 2014 - 2015 Collections Update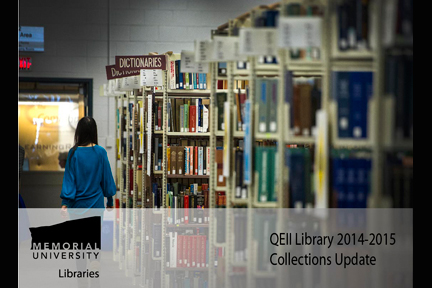 In each fiscal year, the Queen Elizabeth II Library is allocated funds to spend on scholarly resources: books, journals, databases and multimedia. We approach each fiscal year determined to provide the best collections our budget permits.
Like other university libraries across the country, over 90% of our resource materials are purchased in foreign currency, approximately 85% in U.S. dollars. The relative strength of the Canadian dollar against these currencies over the last few years has reduced the impact of base price increases imposed by publishers and vendors. However, in this fiscal year and the next, a weakening Canadian dollar and continuing price increases have had a substantial impact on the budget. To date in this fiscal year, there has been an 11% increase in the cost of our current subscriptions. Our aim, as always, is to protect the maximum possible number of the high quality resources required to meet research and teaching commitments, while facing the challenge of balancing our budget.
Because the purchasing power of our budget is in decline, we have taken steps to contain spending in this fiscal year. Savings have been made by reducing duplication between journal formats, mainly between print and digital media, while preserving access to the content, and by reducing the frequency with which we buy certain reference works whose content does not significantly change from edition to edition. Further, following consultation with appropriate faculty, a small number of journal titles have been cancelled. Links to lists of the titles in each of these categories are provided below.
Research support, curricular needs, research value, uniqueness, usage statistics, and the degree of overlap with other resources are considered when evaluating which resources to cancel.
We will continue to engage faculty in consultations as further cancellations and format changes are required in the coming fiscal year. We thank you for your valued input and perspective on this process.
If you have any questions or concerns, please let us know.
Lorraine Busby,
University Librarian
Format Duplication Reductions 2014-2015
Frequency Reductions 2014-2015
Cancelled Titles 2014-2015


Additional contacts:
List of Collections Librarians by subject
Collections page