P is for Picture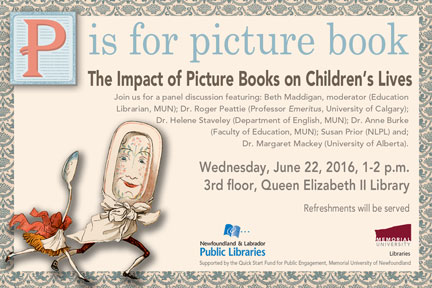 A panel discussion on the Impact of Picture Books on Children's Lives will take place in the Queen Elizabeth II Library on Memorial University's St. John's campus, Wednesday, June 22, 2016, 1-2p.m.
Panelists include Beth Maddigan, moderator (Education librarian, MUN); Dr. Roger Peattie (Professor Emeritus, University of Calgary); Dr. Helene Staveley (Department of English, MUN); Dr. Anne Burke (Faculty of Education, MUN); Susan Prior (NLPL) and; Dr. Margaret Mackey (University of Alberta).
The discussion is an extension of the ideas and images presented in the exhibition, P is for Picture Book: Imagination through Illustration, now on display on both the second and third floors of the QEII Library. The exhibit features highlights from the Peattie Picture Book Collection— a collection of over 1000 titles of prominent children's book authors, illustrators, and designers collected by Dr. Roger Peattie, an alumnus and recipient of a honorary doctor of laws degree from Memorial University, and professor emeritus at the University of Calgary.
For further information, please contact Kristine Power, communications co-ordinator, Queen Elizabeth II Library, at 709-864-3188, 709-770-1553 (mobile) or kristinep@mun.ca.