Pieces of History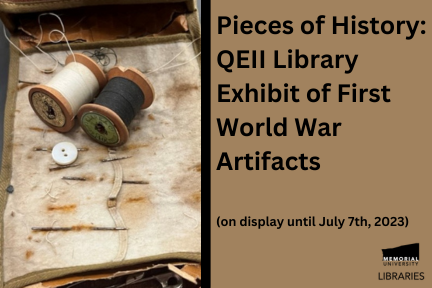 It was often called a "housewife": a rolled pouch made of canvas and tied with string.
Carried by James R. Steele, Royal Newfoundland Regiment, the sewing kit — one of a handful of personal items carried by soldiers during the First World War — is one of several artifacts in a Queen Elizabeth II Library exhibit.
July 1 is Memorial Day in Newfoundland and Labrador.
The many unique items on display highlight the contribution of Newfoundlanders and Labradorians in the First World War, as well as symbolizing the university's enduring role as a living memorial.
Archives and Special Collections employees Matthew Keels and David Mercer curated the exhibit; it will be available for viewing until July 7 on the third floor of the Queen Elizabeth II Library.
For more information about the artifacts, please contact Archives and Special Collections.
1/

NEXT OF KIN MEMORIAL PLAQUE

This is a next of kin memorial plaque (also known as a "death penny") honouring Royal Newfoundland Regiment soldier Thomas J. Fitzgerald, who died in action on April 14, 1917, at the age of 20. The plaque depicts Lady Britannia surrounded by two dolphins (representing Britain's sea power) and also a lion (representing Britain) standing over a defeated eagle (representing Germany). The plaque lists the name of the deceased without rank to symbolize the equality of their sacrifice. Archives and Special Collections, Coll-489
2/

TRENCH WATCH

A "wrist watch" or trench watch believed to have belonged to Royal Newfoundland Regiment soldier Augustus Quinton. It is actually a pocket watch mounted in a protective case with a leather wrist strap called a wristlet. From Archives and Special Collections, Coll-489
3/

BRITISH ARMY 1915 PATTERN WHISTLE

A British Army 1915 pattern whistle belonging to Royal Newfoundland Regiment soldier James R. Steele. James was born in 1888. In January 1915, he enlisted in the Newfoundland Regiment and shipped out to join the regiment in Scotland. He served with the regiment in Gallipoli and then on the western front in France and Belgium. He was wounded at Beaumont-Hamel in July 1916. He rejoined the regiment in Scotland in September 1916. He received his commission as second lieutenant in May 1917 and attended officer training at Trinity College, Cambridge. He was wounded a second time at Ypres in March 1918. After recovering, he was drafted to a special detail in July 1918 to guard the iron ore mines on Bell Island in Newfoundland. There, he commanded a detail of 30 men and served there until the end of the war. He retired from active duty in March 1919. Archives and Special Collections, Coll-499

PHOTO: RICH BLENKINSOPP
4/

ARMY MEDICAL SERVICES ARM BAND AND GERMAN IRON CROSS
5/

FIRST WORLD WAR CAP BADGE OF THE ROYAL NEWFOUNDLAND REGIMENT

Today, the caribou emblem is closely linked to the Royal Newfoundland Regiment but has always been regarded as an iconic symbol of Newfoundland and Labrador. At the start of the First World War, the caribou emblem was adapted from the cap badge of the Presbyterian Newfoundland Highlanders, a cadet corps formed in 1907 that used the caribou as its emblem. Archives and Special Collections, Coll-489
6/

UNIFORM TUNIC

A First World War tunic featuring NFLD shoulder titles and the caribou collar badges, wound stripes, service chevrons, and sergeant rank chevrons. On the back of the collar is the divisional patch from which Memorial University derives its official colours (claret and white). Archives and Special Collections, Coll-489