National Day for Truth and Reconciliation and Orange Shirt Day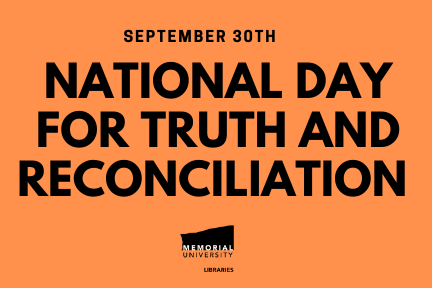 Sept. 28, 2021
This Thursday, Sept. 30, Memorial University will be closed to mark the National Day for Truth and Reconciliation.
This is an opportunity for us all to reflect on the historic and current injustices faced by Indigenous Peoples and to learn about what we can do to live up to the Truth and Reconciliation Comission of Canada's Calls to Action.
On Wednesday, Sept. 29, Memorial will mark Orange Shirt Day across all campuses and locations. On the St. John's campus, all are welcome to join an in-person event at 3 p.m. to spread awareness. The QEII Library, the Education Library, and the Health Sciences Library on the St. John's Campus and the Grenfell Library on the Grenfell Campus have book displays that support Truth and Reconciliation. All are welcome to check out these resources.
On Thursday, Sept. 30, Memorial University campuses in St. John's and Corner Brook will be lighting campus landmarks orange. Wearing or displaying orange is a symbol of solidarity with those who survived residential schools and an act of remembrance for those who never made it home. More information about Orange Shirt Day is available from First Light.
To learn more:
On this National Day for Truth and Reconciliation, we encourage you to explore some of the resources we've compiled from the Web and / or through Memorial University Libraries: