Limitless Potential: Libraries at forefront of access to emerging technologies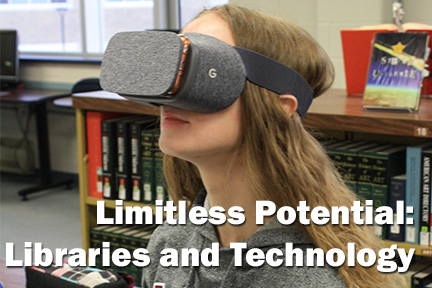 Like a time capsule, a promotional video the Queen Elizabeth II Library made in 1996 contains hints of the future and developing technology.
Librarians and library staff stand by huge computers with black screens and blinking green and blue fonts.
They demonstrate early versions of academic databases and online library catalogues to students, faculty and researchers.
Two decades' difference
That was 21 years ago. The Commons didn't exist. The smartphone didn't exist. The Internet was a toddler.
Watch clips from the 1996 video and clips from today's QEII Library below. (Note: The video does not have sound.)
Teaching and learning
Step forward in time to 2016. Libraries continue to provide essential access to emerging technology by focusing on the potential of augmented and virtual reality, as well as makerspaces.
"Libraries are interested in all of the potential ways we can support teaching and learning," said Crystal Rose, public services librarian, Ferriss Hodgett Library, Grenfell Campus.
The Ferriss Hodgett Library recently offered the option to borrow Google Cardboard, a virtual reality platform that works with any smartphone, as well as 3D pens, and Google Daydream 3D views.
By simply downloading an app and inserting a smartphone in the Google Cardboard viewer, many educational and virtual reality apps are available, including those which take you inside the human body, tour landmarks and significant sites around the world, view images from space or journey inside a human brain in search of neurons that cause mental disorders.
Students are able to visit anywhere in the world, tour museums or ancient ruins, examine biological specimens, gaze at the universe or visualize complex theories without ever leaving campus.
"By providing our students and faculty with an opportunity to experiment with this new technology, they can determine how it could be used in the classroom to enhance learning and to engage students," said Ms. Rose.
"I think we will see more virtual and augmented reality used in teaching in the future, and the library has an important role in ensuring that these emerging technologies are accessible to Memorial's students and faculty."
Experiencing creativity
The Commons, a partnership between Memorial University Libraries, the Centre for Innovation in Teaching and Learning, and Information Technology Services, recently purchased a mobile makerspace with the help of the Faculty of Engineering and Applied Science.
This makerspace, also known as a hackerspace or fabrication lab, can travel across campus and into classrooms with relative ease.
Students learn a concept in a traditional classroom environment, but use makerspace technology to apply what they have learned in real time by testing, adapting and experimenting with the concept in a way that encourages critical thinking.
An idea, an equation, a formula, even a wish can become an object of the physical world.
Educational artifact
"The mobile space combines high-tech equipment such as 3D printing with more traditional equipment, such as a sewing machine. The only limitation is a person's own imagination," said Shawn Pendergast, manager, student services, Information Technology Services.
"This semester we are piloting a project that involves working with students on individual projects. We have already engaged faculty in the School of Human Kinetics and Recreation, the Faculty of Education and the Faculty of Humanities and Social Sciences to take a select group of students on a journey that begins in their classrooms covering a topic but extends beyond those walls into the creative process that eventually will end with an educational artifact that they can hold in their hands."
New pathways
As technology revolutionizes the world around us, libraries are in a position to provide access to new pathways to support the exploration of knowledge.
"Our libraries are always cultivating a culture of innovation as the world around us transforms," said Susan Cleyle, university librarian, Memorial University.
"We are about to begin a new strategic planning process that will continue to focus on the evolving opportunities technology provides us in fulfilling our important commitment to Memorial's faculty, students and staff."