Libraries' Collection Update: Sage Journal Package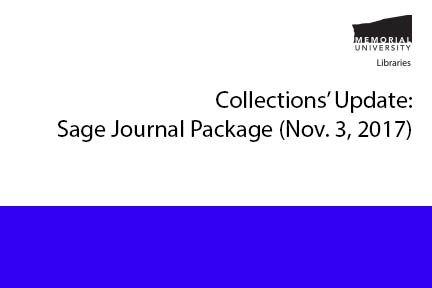 Memorial University Libraries has finalized of journal subscriptions it will retain from the Sage journal package for 2018, after consultation with faculty, instructors and students. The Libraries would like to thank those who provided feedback during the consultation period. Of the 907 titles in the Sage Journal Package, the Libraries will continue to provide current access to 404 titles for approximately half the cost of the package. An are available with an embargo of 12 months or less.
Articles that are not in Memorial University Libraries' collection can be accessed through the Libraries' document delivery service. This service takes an average of two business days and delivers the article via email.
Academic libraries across Canada are struggling within a purchasing model for academic journals that is no longer sustainable due to increasing publisher costs and a foreign exchange rate that is compromising purchasing power. "Our collections are built with the core purpose of providing the necessary resources to foster excellence in research and teaching and learning at Memorial," said Ms. Susan E. Cleyle, university librarian. "We take this mandate very seriously and encourage faculty, instructors and students to continue to consult with us on their research and teaching and learning requirements at any time."
Please contact the Collections Review Sub-Committee Chair, Amanda Tiller-Hackett with any questions, comments or concerns.
More information about Memorial University Libraries journal subscription consultations can be found here.