Join us for a new Check it out! event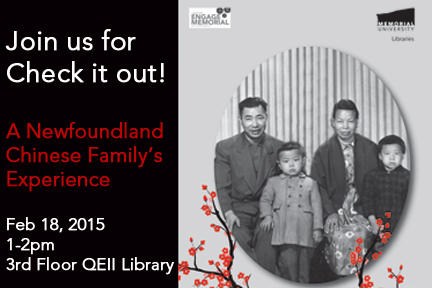 A Newfoundland Chinese Family's Experience
Experience a riveting personal account of the impact of the Chinese Head Tax on the many Chinese immigrants who came to Canada in the early part of the last century. Hear Gordon Jin tell his family's struggles as they made Newfoundland their home. Librarian Dean Seeman will discuss the Digital Archives Initiative collection "The Chinese Community in Newfoundland." Yaying Tu will perform traditional music on the Gu Zheng. Chinese snacks will be provided after the event.
When?
Feb 18, 2015 1-2 pm
Where?
3rd Floor, QEII Library
Update: Check out the stroy on the event on MUN Today.