Introducing our new lecture series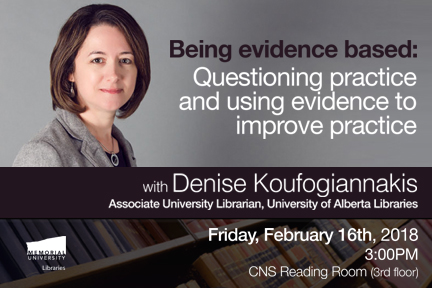 Don't miss the launch of the Memorial University Libraries new lecture series, featuring Denise Koufogiannakis, associate university librarian with University of Alberta. Her presentation "Being evidence based: questioning practice and using evidence to improve practice" will focus on how librarians can be evidence based in their everyday practice and nurture a culture of research within librarianship that leads to personal professional growth, and impacts our profession as a whole.
When: 3:00 pm, Friday, February 16th
Where: The Centre for Newfoundland Studies, 3rd floor, QEII Library
*Not able to get to the QEII Library to attend? Remote access is available for this event for Newfoundland and Labrador Library Association members across the province. To register for a remote session, please email beth.maddigan@mun.ca.
*Pay-Per-Use Parking is available on campus: http://www.mun.ca/cep/parking/pay_per_use.php, or you can request a visitor permit in advance: https://www.mun.ca/cep/parking/visitor-parking-request-form.php.