International Open Access Week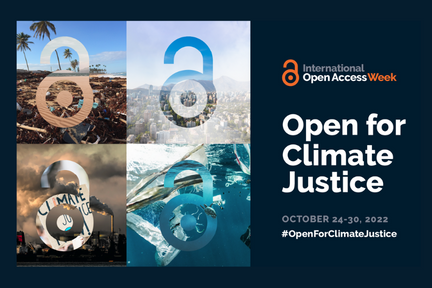 Now in its 15th year, International Open Access (OA) Week runs from October 24-30, 2022. This year's theme "Open for Climate Justice" highlights how OA is critical to tackling the current climate crisis.
What is Open Access?
In traditional academic publishing, copyrights are signed over to commercial publishers who then charge readers to access the content. A great deal of research material on the web is locked behind paywalls. By its sheer accessibility, OA publishing can be a powerful tool for building more equitable systems of sharing knowledge. "Open for Climate Justice" encourages connection and collaboration among the climate movement and the international open community. Sharing knowledge is a human right, and tackling the climate crisis requires the rapid exchange of knowledge across geographic, economic, and disciplinary boundaries.
Why Open Access?
Canada's Tri-Council funding agencies -- the Canadian Institutes of Health Research (CIHR), the Natural Sciences and Engineering Research Council of Canada (NSERC), and the Social Sciences and Humanities Research Council (SSHRC) -- are the main source of research funding for Canadian universities and all have made open access a publishing requirement for funded research. The open access movement encourages transparency, collaboration, and availability, amongst many other benefits.
How Memorial University Libraries supports Open Access?
Memorial University Libraries has created a number of initiatives to enhance the visibility, retrievability, and impact of faculty and student research. The Libraries have established the Open Access Author Fund to pay article processing charges (APC) when scholarly papers with Memorial corresponding authors are accepted in open access journals. The Fund typically opens in April or May each year and remains open until the funds are depleted. Though the Open Access Author Fund is currently closed, the Libraries have also negotiated APC discounts with more than 10 publishers which provide MUN-affiliated authors with anywhere from 15% to 100% discounts on APCs, year-round. A full listing of APC discounts can be found on our APC Discounts webpage. The Memorial University Research Repository is a place to openly share articles, presentations, performances, and reports. The Library's open journal hosting platform, OJS, currently hosts more than 20 open access journals managed by Memorial faculty, students and regional associations. Memorial students, staff, and faculty interested in starting a journal hosted via OJS can email ekinzel@mun.ca.
To find out more about Open Access at Memorial, contact Eden Kinzel (ekinzel@mun.ca), visit our guide on Open Access, or join the session below:
Open Access and Research Visibility
To join: https://event-wizard.com/sgsoarvoct25/0/register/
This session will focus on the interrelated scholarly publishing topics of Open Access and Research Visibility. In this session, you will learn about the often misunderstood topic of Open Access and the place it occupies in the scholarly publishing landscape. You will also learn to increase the visibility of your work through strategies such as making your work Open Access, setting up and optimizing researcher IDs and profiles such as ORCID, engaging in relevant social media, and more. A special emphasis will be placed on the relevant services currently being offered by MUN Libraries.