International Open Access Week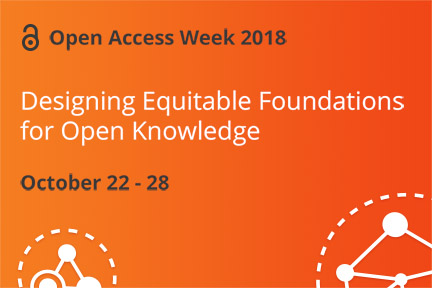 Memorial University Libraries is celebrating International Open Access (OA) Week 2018 from Oct. 22-28. The term open access refers to free and immediate online access to scholarly research and the right to use and re-use that information as needed. The OA movement has the potential to dramatically transform the landscape of academic scholarship through increased exposure with audiences such as governments, private businesses and members of the wider community. This year's theme is aptly titled "Everywhere."
In traditional academic publishing, copyrights are signed over to commercial publishers who then charge readers to access the content. This means that a great deal of research material on the web is locked behind paywalls. By its sheer accessibility, OA could shine a brighter spotlight on existing global research and build momentum to create greater funding opportunities for future research and scholarship.
"Open Access Week is a global movement that highlights the greater need for accessibility within scholarly publishing," said Dr. Patrick Gamsby, Memorial University Libraries' scholarly communications librarian. "Open access ensures access to textbooks, course materials, and articles developed by university faculty, and faculty and researchers benefit from greater visibility as a result of a wider audience for their work, and a higher number of citations."
Canada's Tri-Council funding agencies -- the Canadian Institutes of Health Research (CIHR), the Natural Sciences and Engineering Research Council of Canada (NSERC), and the Social Sciences and Humanities Research Council (SSHRC) -- are the main source of research funding for Canadian universities and all have made open access a publishing requirement for funded research.
Memorial University Libraries has created a number of initiatives to enhance the visiblity, retrievability, and impact of faculty and graduate student research. The Libraries have established an Open Access Author's Fund to pay author's fees when scholarly papers are accepted in open access journals. The Memorial University Research Repository is a place to openly share articles, presentations, performances and reports. The Library's open journal hosting platform currently hosts 14 open access journals managed by Memorial faculty, students and regional associations.
The Centre for Innovation in Teaching and Learning (CITL) has an open learning object repository, which provides instructors with free access to thousands of digital learning objects to be used or repurposed for teaching and learning. Users of the repository can search for and create collections of objects, as well as share objects they create with the wider community. Digital rights are acknowledged through the use of Creative Commons licensing in a self-serve model.
Memorial's Harris Centre maintains the search engine Yaffle to help connect Newfoundland and Labrador communities with relevant university research.
To find out more about open access at Memorial, contact Dr. Patrick Gamsby (pgamsby@mun.ca), or visit here.