Gallery celebrating 25th anniversary of visual arts graduates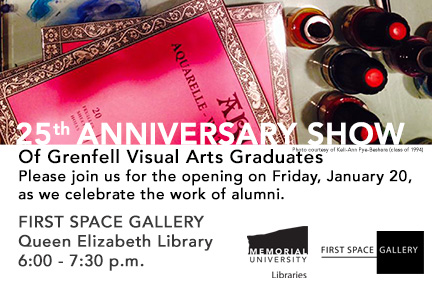 The First Space Art Gallery in the Queen Elizabeth II Library at Memorial University is marking a milestone anniversary with its latest exhibit.
The show, 25 Years of Graduates from the Visual Arts Program at Grenfell Campus, features an eclectic range of artistic forms and mediums that showcase a range of creative expression from artists that Memorial helped shape.
The visual arts degree program at Grenfell Campus was launched in 1988. About 360 individuals graduated in the last 25 years. The bachelor of fine arts program gives students an opportunity to enhance their technical skills while further developing their creative vision. It also continues to launch students into unexpected and rewarding careers.
First Space Gallery has shown work by emerging artists since 2004 and continues its commitment to foster creative expression that celebrates Memorial's dynamic campus and its thriving surrounding community.
The opening event takes place on Friday, Jan. 20, from 6-7:30 p.m. More information about First Space Gallery can be found here. For Gallery hours, please visit here.