Conversations in Information Literacy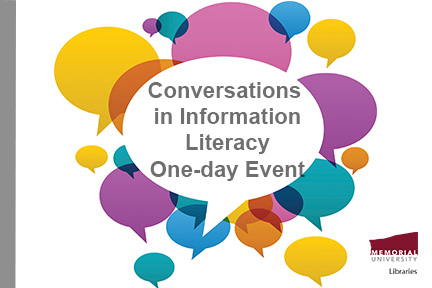 On February 22nd, Memorial University Libraries will be hosting Conversations in Information Literacy, a free on-campus event designed to bring together educators from across Memorial to explore our shared values, beliefs and practices around the teaching and learning of student research & Information Literacy (IL).
Taking place at the McCann Centre (ED-2030B,located in the Education Library), the day will be composed of open discussion, round tables, lightning talks, a student panel, and more. A draft program is provided below.
We invite faculty members, instructors, librarians, and others engaged in teaching & learning to register at https://goo.gl/896Vzb . Participation is free, but please register by Monday, February 20th to let us know that you are coming. We regret that capacity is limited, and urge you to register early to avoid disappointment.
Conversations in Information Literacy (DRAFT) program
Wednesday, February 22nd, 9:30 am to 3:30 pm
9:30-9:50

Morning coffee and welcoming remarks

9:50-10:50

Narrative-based discussion

Participants will reflect on their own experiences learning to work with the literature of their disciplines, as well as how their students acquire IL skills and abilities. Facilitated by Maureen Dunne.

10:50-12:00

Information Literacy Roundtables

Participants will move through a series of roundtables on a number of IL-related teaching & learning themes: academic integrity & plagiarism; research as a form of inquiry; personal vs. academic research practices; scholarship as a form of conversation; and scholarly communication & copyright.

12:00-12:30

Lunch (provided)

12:30-1:15

Threshold concepts for IL

In this session we will attempt to define and characterize information literacy; examine the threshold concepts for IL; and reflect on what they mean to our students and to us as educators. Facilitated by Janet Goosney.

1:15-2:15

Lightning talks

Information Literacy About Information Theory - Cecilia Moloney
Memorial's Academic Integrity Pilot Project - Lorna Adcock
Personal Librarian: Pairing Students with Librarians - Lindsay Alcock
Information Literacy in the Sciences: Targeting Graduate Students- Danny Dyer & Alison Ambi
Cultural Perceptions of Plagiarism and Teamwork- Mark Picco
Digital Dilemmas: Where Scholars are Falling Short and Students are Switching Off - Valerie Burton

2:15-2:30

Break

2:30-3:30

Moderated student panel

A group of Memorial University students from a variety of programs and backgrounds will share their observations and experiences learning about and carrying out student research at Memorial.
"Information literacy is the set of integrated abilities encompassing the reflective discovery of information, the understanding of how information is produced and valued, and the use of information in creating new knowledge and participating ethically in communities of learning."
Association of College & Research Libraries. (2015, February 2). Framework for information literacy for higher education. Retrieved from http://www.ala.org/acrl/standards/ilframework.
For further information, please contact: Janet Goosney, Chair in Teaching & Learning (Library), jgoosney@mun.ca or 864-3166.