Coast Lines & Coffee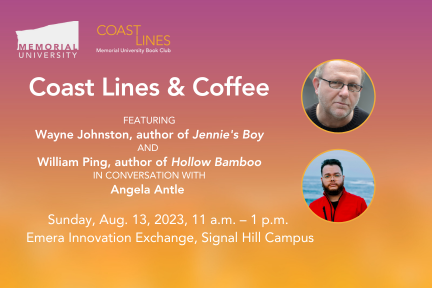 Join us for Coast Lines and Coffee, featuring authors Wayne Johnston (Jennie's Boy, BA'79, Honorary D. Litt.'07) and William Ping (Hollow Bamboo, BA'18, MA'20) in conversation with Angela Antle (BA'91). We look forward to welcoming you to the first event in this series celebrating Newfoundland and Labrador literature. The Memorial University Bookstore will be onsite with various Coast Lines titles for sale and our guests of honour will be happy to sign copies of their books following the panel discussion.
Wayne Johnston (BA'79, Honorary D. Litt.'07) was born and raised in Goulds, Newfoundland. He worked as a reporter for the St. John's Daily News before deciding to devote himself full-time to writing. He has written several novels including The Colony of Unrequited Dreams (which was named as one of the 100 most important Canadian books ever produced by the Globe and Mail), The Navigator of New York and Baltimore's Mansions (which received the Charles Taylor Prize for creative non-fiction).
William Ping (BA'18, MA'20) is a Chinese-Canadian writer from Newfoundland. After completing his master of arts at Memorial University in 2020, he was named a Fellow of the School of Graduate Studies. He received the 2022 Cox & Palmer Creative Writing Award as well as the 2021 Landfall Trust. His debut novel, Hollow Bamboo, which he wrote for his master's degree, received the Award for Thesis Excellence from the English department. His work has previously been featured on the CBC, in Riddle Fence, and in the anthologies Us, Now and Hard Ticket.
Join the Coast Lines discussion on Facebook!
Register at this link to join us on August 13th: https://mun.jotform.com/231803181836253
Event Details
Date: Sunday, August 13, 2023
Time: 11:00 am to 1:00 pm NL
Location: Emera Innovation Exchange, Signal Hill Campus
Ticket Price: $25 CAD in person (+ 15% HST + 4.5% Processing Fee = $30.04 CAD)
Ticket price includes coffee/tea, continental breakfast, panel discussion, book signing, and parking.