Check it Out! How do you deal?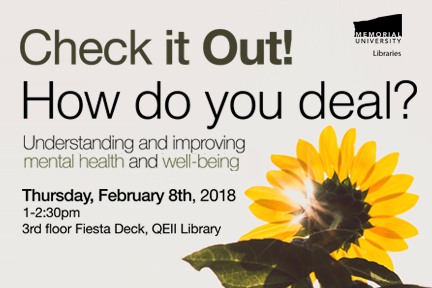 How do you deal? Understanding and improving mental health and well-being
Check it Out! Is pleased to present a discussion about mental health and some experiences, strategies, programs, and supports. The event will include a viewing of the powerful documentary Be the Change, about Stella's Circle Inclusion Choir.
When: Thursday, Feb. 8th, 2018
1-2:30pm
Where: 3rd Floor Fiesta Deck, QEII Library
Panelists:
Leigha-Chiasson-Locke - Regional Librarian for St. John's Public Library
Amelia Curran - Musician and Mental Health Reform Advocate
Jenelle Duval - Program coordinator, St. John's Native Friendship Centre
Rob McLennan - Director of Employment Services, Stella's circle
Brad Yetman, Melissa Hussey - MUN Student Wellness and Counselling Centre
*Supported by the Public Engagement Accelerator Fund, Memorial University of Newfoundland