Alcuin Awards for Excellence in Book Design Exhibit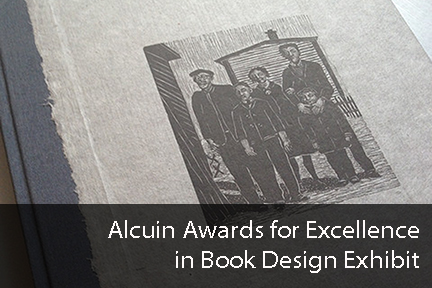 The winners of the 33rd Alcuin Society Awards for Excellence in Book Design in Canada is now on display on the third floor of The Queen Elizabeth II Library. The exhibit features some striking book designs, including an honourable mention for Viewfinder byNewfoundland and Labrador writer Michael Crummey, designed by Alan Stein (Church Street Press). The exhibit was coordinated by Jeannie Bail (archives and special collections), and Joanne Costello (First Space Gallery).
The Alcuin Society is a Vancouver based non-profit society for the support and appreciation of fine books. In addition to the annual book design competition, the Society publishes a journal, Amphora, and organizes lectures, workshops, exhibitions, and field visits on various aspects of the book. For information about the 2014 award winners, please visit: http://alcuinsociety.com/awards/, or pick up an exhibit catalogue (a limited number of print copies are available at the exhibit).
"Over the last few years, the competition has gained prominence by having the winning books exhibited both nationally and internationally: this year, the books will be displayed in every province," said Leah Gordon, chair of book design with the Alcuin Society. "This has been accomplished by the assistance and support of universities and galleries across the country. The winning books are also shown annually at major international venues: at the Canadian Embassy in Tokyo and at the great international book fairs in Frankfurt and Leipzig, placing our books on the world stage."