A decade of holiday cards!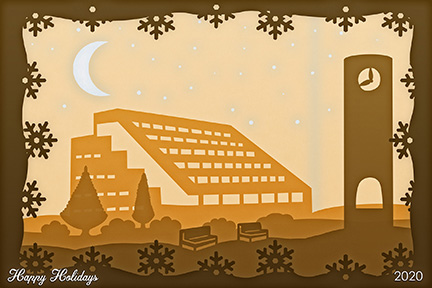 Each year QEII Library IT employee Gordon Little designs a Christmas card with a QEII Library theme. All our employees wait with excitement to see where this year's theme will take us. 2020 has been a challenging year and COVID-19 continues to affect our lives. Mr. Little thought he would release his card early to bring a little holiday cheer to everyone. On a brighter note, 2020 marks a decade worth of cards designed by Mr. Little and we are profiling them all here in this video. Each card reflects the year it was designed – they mirror current trends like pewter Christmas ornaments and also showcase innovation through technology like 3D printed miniatures. Looking at them all is like traveling through time.
"This year I wanted to make something that looked like a paper craft diorama," said Mr. Little.
The QEII Library Christmas card is just one creative outlet for Mr. Little. "I need to be creating and I am constantly looking for new outlets. I make video games, I draw art and comics, I make crafts and vinyl decals, I do cross stitches, and 3D printing."
Here's a video that showcases all ten Christmas cards: