10 Library tips for new students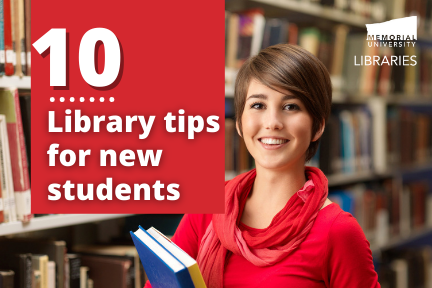 Sept. 3, 2021
Your MUN ID is your library card!
Use it to borrow books, access reserve items and book study rooms, and photocopy. Here is how you can get your campus card.
Connect to MUN wireless
On the St. John's campus, connect any device to wi-fi using your MUN login username and password. Need help? Visit the Computing Support Desk in The Commons or the Getting Connected to Wireless Page.
Access the library from anywhere
You have off-campus access to subscription library resources like databases, e-books, and journals. Log in using your MUN Login username and password.
Use your MUN Login to log in to library computers.
Printing and photocopying information at our libraries is below:
Need an article or book?
OneSearch is the main search box on the library homepage for finding books, articles and more. Learn all about using OneSearch. For more in-depth article searching, select a specialized database in your area of study using the Databases lists. Our subject guides are a great place to start your search. Guides are laid out based on your subject area.
Renew your books online
Books may be renewed online unless someone else has placed a hold on them. Log in to OneSearch with MUN Login username and password.
Get items your library doesn't own
Intercampus Loan is a free service that you can use to request to borrow items from other Memorial libraries' branches. Document Delivery is a free service that allows you to request items that Memorial libraries do not own. Librarians and staff will check with other libraries and suppliers and try to borrow the item(s) for you.
Find e-reserves (Course Resources)

Your Instructors can place required readings and other course resources in our online "e-reserves" system. You can access course resources (e-reserves) from the library homepage and sign in with your MUN login. More info on how to find your course's resources can be found here.
Find your space
Our libraries offer personal, group and quiet study spaces. You can also find unique spaces like art galleries or technology spaces like The Commons in many locations. Find out what spaces are available in your library.
We're here to help! Ask us!

If you have questions or need help, contact us through online chat, phone, email or visit us in person. Ask at any help desk — staff will be able to point you in the right direction.