Memorial University Libraries proudly presents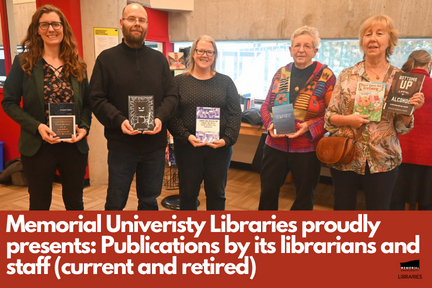 March 18, 2023
The Centre for Newfoundland Studies held an event on March 15 to recognize recent book publications and creative works by members of the Memorial University community between the years 2020 – 2022.
Below are the publications by Memorial University Libraries' librarians and staff, current and retired. These works, and all those included in the event, will be preserved in the CNS and accessible to all who visit. Congratulations our library team for managing to create these unique works during the great upheaval of a pandemic!
Alcock, Lindsay and Kelly Thormodson. The Engaged Health Sciences Library Liaison. Edited by Lindsay Alcock and Kelly Thormodson. Lanham: Rowman & Littlefield, 2020.
Library and Information Studies for Arctic Social Sciences and Humanities. Routledge, 2020. Chapter by Darren Furey and Stacey Penney
Gamsby, Patrick. Henri Lefebvre, Boredom, and Everyday Life. Lanham: Lexington Books, 2022.
Little, Gordon. Paper Dungeon Mazes. 2022
Lukins, Sheila. Once upon an iceberg : Errol's Twillingate Adventure. St. John's, NL: Breakwater Books, 2021.
Kardos, Ann. Unseen Labor an International Library Community-Organizing Embroidery Project and Exhibit About Metadata, Our Stories and Our Service. Amherst, Massachusetts: University of Massachusetts Amherst Libraries, 2022 (submission by Heather Pretty)
Roberts Lukins, Sheilah. Bottoms up : a History of Alcohol in Newfoundland and Labrador. St. John's, NL: Breakwater Books, Limited, 2020.
Sexty, Suzanne; Browne, Liz L. M. Long overdue: SS Beverly. St. John's, Newfoundland and Labrador: DRC Publishing, 2021.